We offer unheated storage in shipping containers. These are built to last 25 – 30 years in the harsh ocean environment while bouncing around cargo ships, so they make for a very good place to store a wide variety of items. The size is 8′ wide x 20′ long x 8′ high. These are great for storing a variety of items including:
cars – You can rent just during the winter season or you can rent year round and just park your daily driver onsite while driving the fun car!
trucks
atvs, motorcycles, snowmobiles, side by sides
tools
furniture
business supplies
construction tools, equipment, building materials, etc.
inventory
and much more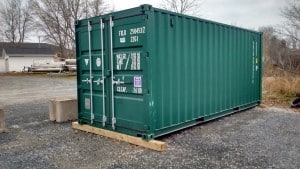 It is very easy to add shelves to some or all of the space to store smaller items.  With all these shelves just think about how many household items you can move out of your garage, spare rooms, basement, shed, yard, etc!
Our shipping containers have vents built in to avoid moisture and condensation to protect the contents. We rent these for $160/month plus tax. Please feel free to contact us here.

Spending an afternoon and a few dollars to build shelves to help organize belongings is recommended so that you don't end up with the same mess this guy made.