We have indoor climate controlled units and secure outside compound for RVs, trailers, boats, heavy equipment, etc. Indoor units are protected with a secure access door with electronic keypad. Security cameras and motion sensors provide coverage of the entire area, and each door is individually alarmed as well.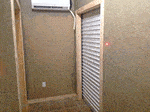 Storage Rates & Sizes (Heated)
Indoor climate controlled (heat and air conditioning) units with 24/7 access. Each has its own roll up door has an alarm so if there is an unauthorized entry we receive an alarm and can look at the security cameras to see what is happening. (L x W x H in feet):
5.5 x 9 x 8 = $85
5 x 12 x 8 = $85
6 x 11 x 8 = $95
8 x 10 x 12 = $140
$350 per season (November 1 – April 30)
$75/month with 24/7 access for those who require in and out service. This is a great option for the spring, summer, and fall months when driveway space at home is at a premium.
We also offer onsite shrink wrapping service for $13/foot. The shrink wrapping process provides a strong 7 mm vinyl cover that is shrink wrapped to protect your investment for the winter, or even for the long term.
Please Contact Us here for more information or to discuss your needs. Remember all this snow in the fall of next year. For more information please feel free to read the article Boat Storage.