It is camping season at long last! Park your RV or boat in our compound for only $75/month. Just pick it up here on your way to your favorite location. We are getting lots of interest in this service so we are expanding our area, to twice the size.
East Hants Corridor Self Storage Options Include:
We have the only climate controlled units located in East Hants, Elmsdale near the Enfield border. Located in the beige metal building with the red roof. The actual address is 541 highway 2 Unit 2 Elmsdale, NS.
24/7 climate controlled units for rent on a monthly basis. The entire area is under video surveillance and the main entrance and each roll up door is armed with a security system. East Hants storage rates & sizes can be seen here.
Outside external secure year round parking in our secure compound is available. The compound is gated with lights and security cameras. The cost for the winter season is $350 (November 1 – April 30).
Boat, Trailer, RV Protective Shrink Wrapping
We also provide shrink wrapping to protect your investment. The rate is $13/foot and we do this onsite.
(L x W x H in feet):
5.5 x 9 x 8 = $85
5 x 12 x 8 = $85
6 x 11 x 8 = $95
8 x 10 x 12 = $140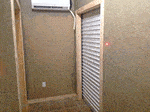 We have the only local company with climate control to protect your belongings and provide peace of mind. Ductless heat pumps provide cooling in summer and heat in winter.
We are located about a 15 minute drive from the much more expense competition in Dartmouth, Bedford and Sackville. If you rarely frequent your items you can save a lot of money with the 15 minute drive (20 from Dartmouth).
Please feel free to contact us using the Contact Us Page.